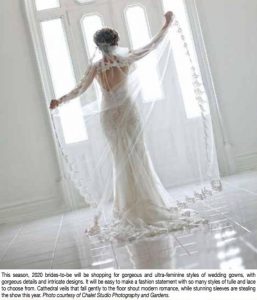 With an eye on 2020, we've ushered in a new decade. Millennials have overtaken the baby boomer generation with fresh attitudes, and a new vision when it comes to planning; and they're getting married! They are very socially conscious and look at life differently from the generations which preceded them. It's all about statement-making and highlighting their personality as a couple, whether when planning for, or celebrating their special day.
Be it traditionalist or hip-and-trendy, this season offers ample choice when it comes to planning an exhilarating wedding day. Meaningful ceremonies and saying "I do" with romantic imagination is all a part of creating memories which last a lifetime and prove timeless for any generation.
From photography to beauty, event planners to videography, it's the most intimate details that provide the canvas for perfect wedding planning. The trends for 2020 will be innovative and inspiring with the emphasis on fashion, menus, decor and flowers.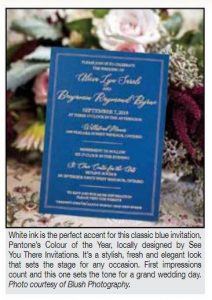 Weddings will be hosted in both lavish locations that are perfect for large guest lists, to micro-gatherings for close friends and family. Couples today are tying the knot with custom personalization and detailed and intricate planning like no generation before them.
This upcoming season, you'll find a world of inspiration with unparalleled choices, complete with fabulous wedding professionals, all at the ready to make the couple's vision come true.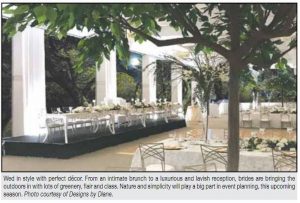 Every couple wants a memorable day and Windsor/Essex County is the perfect place to throw a party. It's going to be a year of dazzle, elegance and romance. Wedding style isn't just about what you're wearing, it extends to every aspect of your day, starting with your engagement and ending with the favours your guests take home.
This region has all the locations a couple could want, from traditional halls to local wineries and breweries, historic mansions and beachfront locations.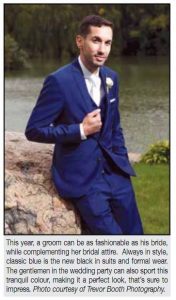 Wedding vows continue to be bespoke and written by the couples with the help of their celebrant, to create more meaningful readings, that they value as a couple.
If you're planning a 2020 wedding, expect to see outstanding feminine fashion with big skirts, trains, and romantic cathedral veils that fall to the floor. This season's shoulders come with amazing details. Gowns will sport embroidery, ruffled collars and lots of lace and tulle. It's all about making a fashion statement and today's gowns have brides talking.
Pantone Colour Institute, the word on everything fashionable, trend setting and current, has chosen Classic Blue, as their colour of the year. It's the new black and it's calming, flexible and elegant. It's the perfect complement for wedding party attire, as well as an inviting hue for decor.
Expect to see the rise of the Man-shower or bro-dal showers that celebrate the groom-to-be. These are not bachelor parties and happen as a traditional shower would. The guest list can include family, co-workers and friends, and may include a catered meal, perhaps a whisky tasting, axe-throwing, a round of golf, a visit to a gaming arcade, shooting pool or an evening of poker. It's meant to be a fun event, where now the groom also gets the opportunity to also receive gifts that are relevant to his likes and lifestyle.
Sustainable weddings will definitely be a 'thing' this season. No plastics, organic produce, locally sourced food, less travel for guests and charitable giving continue to be on the rise. If a couple has no need for bridal registry items, they can ask their guests to donate to a charity that has meaning to them. Again, for many millenials, it's all about community and social consciousness.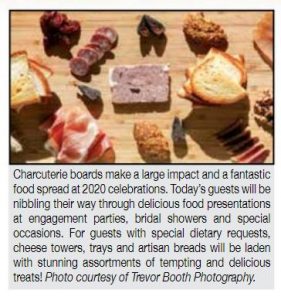 Wedding food will offer more vegan and gluten-free choices. The days of plated dinners of chicken, beef and fish dishes are slowly declining. Even couples who aren't vegetarian are more sensitive to their guests, some of whom have dietary requests. Couples are opting for craft food and beverages that are relevant to today's lifestyles and environmental concerns.
Expect to see grazing and dessert tables, replete with savoury cheese towers, cheese boards and artisan breads. From fanciful hors d'oeuvres to charcuterie boards laden with menu items to tempt, it's all about the presentation. Menus are less formal and more inviting, always ready to please the guest list and available for nibbling throughout the celebration.
The management of Other Place Catering expects 2020 to be eye-catching and sophisticated as they're prepared to cater to your each and every need.
"Smaller-sized weddings with higher-end menus and signature drinks allow the bride and groom to dazzle guests by making the expected unexpected," said the Other Place Catering management team, adding that whether menu items are favourites of the newlyweds or traditional fare, they are prepared to accommodate all requests, with the style and service they are known for.
"Whether menu items are favourites of the newlyweds or traditional fare, Other Place Catering is able to customize your menu, from serving styles, to the number of courses, dietary restrictions or mini-food stations all while staying  within a budget that works for you."
Menus may showcase brunch at dinnertime, tempting buffets and multiple food stations. Signature drinks and custom cocktails continue to rise in popularity and may even match the overall colour scheme of the day. Tavern seating continues to grow in popularity.
Couples will have fun showcasing the sweet treats of their youth. Popsicles are making a comeback, prepared with no additives but sometimes featuring champagne. A snack of chocolate truffles filled with spirits like whisky, brandy or Kaluha will add a novel twist to the sweet table assortment.
2020 decor is big, bold and moody. There will be groom's rooms to converse in and spaces for the littlest of guests to play in. Expect to see walls covered in balloons, twinkling lights, and art murals that will make great backdrops for photo-ops and social media. There will also be plenty of candlelight, chandeliers and monogrammed dance floors. This season, lighting is the big hit of the party, as it highlights and accentuates specific areas of the venue for dramatic effects. The attention to detail is outstanding and the allure of the venue will definitely be inviting.
Diane Spencler, Event Planner, Certified Decor Specialist and owner of Designs by Diane, a company that she founded over 30 years ago, explains that weddings this year will boast an exotic feel with "bold and fabulous decor and lots of colour. Watch for lots of greens or lots of florals. It's the year of details with modern, elegant and timeless designs, dotted with unusual flowers. 2020 will be visually beautiful with lots of impact."
Diane has a knack for what today's couples want and she is meticulous at delivering breathtaking and inspiring occasions with style and flair, always going beyond expectations with her amazing colour palettes and genteel touches.
For first impressions, wedding stationery is opulent this season with a regal feeling. You'll see family crests and personal monograms printed with white ink, and classic wax seals. Custom-designed invitations with illustrations are trending with images that have personal meaning to the couple. Expect to see invitations sporting Pantone's Classic Blue with gold or silver accents.
Seating charts continue to be highly sophisticated and you'll see ceremony programs and menus matching the overall theme.
Florals today are making big statements. Bouquets are less structured and more natural with lots of leafy greens and unusual flowers. Watch for pops of hot pink and fuschia. You'll also find edible flowers in salads, ice cubes and in cakes,  as well as on top of desserts. Flowers are the perfect accent when it comes to festive celebrations.
Videography is finally part of the big picture in 2020. If a picture is worth a thousand words, then a video is worth 1000 pictures. Don't be the couple who regret not having a video when the day is over. Budget for it and relive your day for years to come.There's nothing like rewatching your day unfold in real time. There will be so many moments that you'll see for the first time. You'll be able to share and cherish these memories with future generations for years to come.
Anything goes when you're wedding planning. Essex County brides can plan an unforgettable event in idyllic venues that speak to their style and personality. Whether hosting your special day at a historic mansion or local winery, a craft brewery or a traditional hall or golf course, Windsor Essex has it all, and don't forget the beautiful waterfront and beachfront locations. With a wedding season that extends into fall, it's an ideal region for getting married.
It's the details and the couple's distinct personality that sets one nuptial apart from another. Couples want to WOW their guests as they host their wedding day, and we boast the professionals who can make the day as unique as they are, with expertise and personalized style and customization.
From large gatherings to small intimate celebrations, your special day is one of sentiment and love. With exceptional style, and lavish and memorable reception settings, today's couples are planning unforgettable, beautiful and heartfelt celebrations filled with lots of love and laughter. 
Congratulations to all that are tying the knot in 2020. It's going to be a perfect year to marry.
Sheryl Davies Is the Publisher/Owner of The Wedding Guide Windsor|Essex County, now in its 28th year (visit her website (theweddingguide.ca). She is President of DMS Communications, a creative marketing company and also serves as a Social Media Commentator for selected, area businesses. Davies was a Biz X Nominee in both 2015 and 2016 in two categories; for Leader in Social Media Leader Who's a Tough Act to Follow and Leader of the Franchise World. As a proud supporter and advocate for the Arts, Sheryl is a founding member of The Canada South Festival Network,The Canada South Blues Society and a Past President of the Arts Council Windsor Region.  She spent 18 years as one of the original organizers and publicist of Bluesfest International. Davies also sits on a board of wedding experts based in the U.S., as the only Canadian member.
Story originally appeared on BizX Magazine: