It is no secret that, at one time or another, every bride-to-be has dreamed of a outdoor wedding. Whether she has grown up in a big urban city or small rural town, the thought of an outdoor wedding conjures up feelings of romance and happiness.
The wonderful thing about a garden wedding is that it can be simple or elaborate. Whatever your budget, an outdoor ceremony can be magical. Imagine walking down a long white runner, sprinkled with rose petals, hearing the birds sing overhead, and seeing the man of your dreams standing under a flower-filled gazebo.
If the wedding is to take place at sundown, twinkling white lights in the trees and around the gazebo can add a special touch.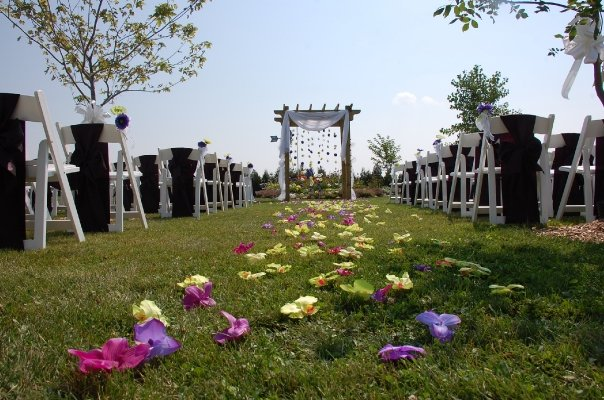 Location and atmosphere are especially important for an outdoor wedding. Your special place must be able to accommodate a wedding. Whether you are interested in a hotel, park, country club or beach destination, find out which facilities are readily available and what arrangements need to be made to use them.
Many facilities charge an hourly fee for their use— often with a time limit. The fee usually includes the set-up and take-down of chairs. Some facilities even offer a tented option as a back-up plan if the weather isn't perfect.
Your location should have a few good spots for professional photographs to be taken before and after the ceremony. For example, photographs in front of a gazebo or a garden always come out beautiful and colourful.
So if you are planning a wedding and cannot decide where to have it, check out your outdoor wedding facilities. Some  reception sites today also offer outdoor ceremony options.
With a little planning, a garden wedding can be even more romantic and beautiful than you've ever imagined.