*Featured in Biz X Magazine, April 2019*
Love is in the air !
With a holiday season behind us and a new year ahead, come new engagements, new brides-to-be,  new wedding trends and beautiful moments. From the traditional to the trendy, brides this season are as creative as ever adding personal touches to the biggest and priciest party that they will ever throw. They're saying "I do" with romantic imagination and all things glamorous, yet simple and elegant. They are creating memories for a lifetime.
In 2019, couples are choosing the unique and this year will be no exception. Rules are out; mismatched bridesmaid dresses, lavish ceremony entrances, meaningful ceremony touches and unexpected reception details will be the highlights of the wedding day.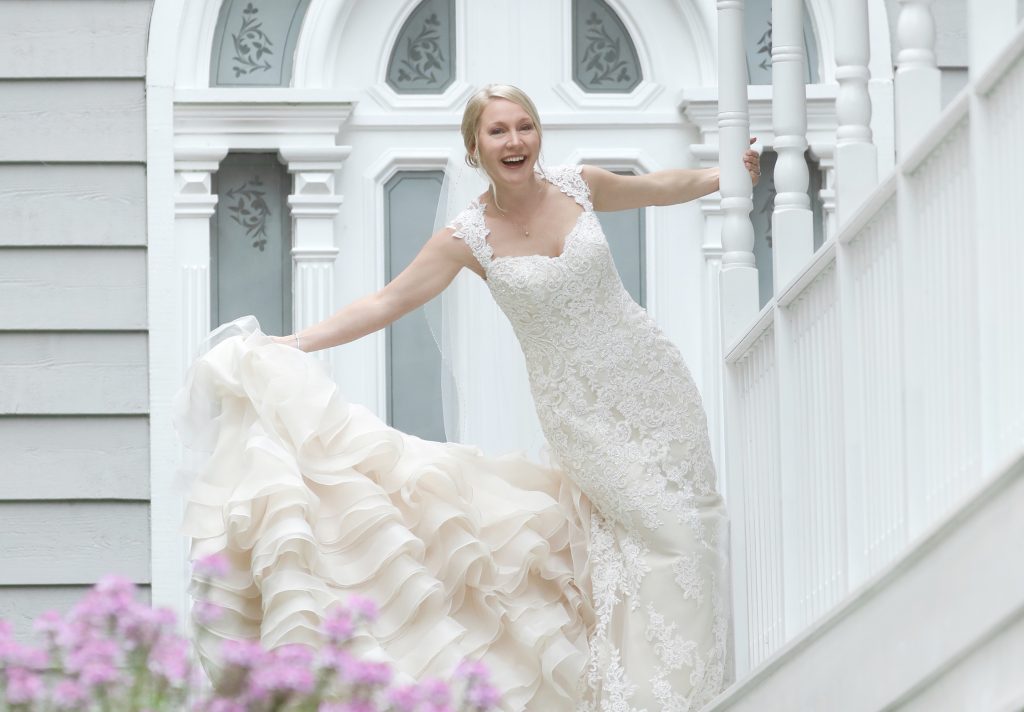 photo courtesy of: Chalet Studio Photography and Gardens, Windsor, ON.
Each season trends change and evolve, which means one year's celebrations are distinctly different from the previous one.This year you'll see even more personalization than ever.
A wedding is a magical occasion and what sets it apart from any other special event is the ceremony. No two weddings are identical and they are as unique as the couple hosting them.
Watch for bridesmen and groom girls, flower grandmas and best women as those traditional roles are now a guide, not a rule. Trends may change but a few things remain the same and the biggest one is the planning process, where a couple will make a 'thousand' decisions, compromise and work together to plan their nuptials. The gown, the ceremony, the wedding cake and the celebration are all symbolic and will continue to be part of a very special milestone in life, the wedding day.
Couples will splurge on the details with options that are as vast and varied as their guest list is long! The range of venues throughout Windsor/Essex County is enviable and spectacular for all tastes and budgets; couples can choose from hotel ballrooms, galleries, breweries, restaurants, ethnic clubs, wineries, barns, historic mansions, backyard tents and sandy beaches. There is no lack of fabulous and distinctive locations of where to host the day.
According to Auby Evon, Windsor Wedding Planner and talented owner of Little Bird Wedding Event Co.,  (http://www.littlebirdweddingand eventco.ca), "More couples continue to take their wedding ceremonies and receptions outdoors for sophisticated and unique celebrations. They continue to put their 'signature' statement on items that are reflective of their 'couple' personality. Wedding planning services are no longer exclusively for the rich and famous", she goes on to say, "but for everyday working couples, who are too busy and need some valuable assistance to plan the day of their dreams." She adds, "Working with a professional will keep you focused on the details, while keeping you organized and stress-free. This season couples are focusing on making their guests feel special and appreciated while they plan their heartfelt moment in history."
Today's bride is no different than her predecessors as she plans her day. This area is brimming with superb, wedding professionals from photographers, makeup artists and stationers to DJ's, limo companies, venues and more. It will definitely be a year filled with beautiful ideas, bright colours, heartfelt celebrations and lots of sentimentality.
From food that is cultivated locally to the suppliers who become part of the wedding experience, local business owners and service providers take pride in helping couples plan their day, select their perfect dress, the dazzling bouquet and their delicious menu items.
2019 colour will be spirit-lifting with creative and unexpected combinations that are intense, bright, daring and inspirational. From dark, rich earthy hues to bright, high energy shades, this year's palette is all-embracing with sunset colours. Expect to see pops of orange, rich blues, red and bright pinks. Living Coral is Pantone Institute's colour of the year and it's a citrusy, happy colour that flirts well with neutral, accent tones.
Today's bridal gowns are romantic, super svelte to traditional minimalist with off-the-shoulder detailing, plunging necklines and lots of ruffles. Whether silk, lace, satin or taffeta, the style of the day is simplicity. Ribbons and  sweet bow details are "in" again and continue to adorn necklines and sleeves with a sassy and fresh look. No longer strictly for girl's clothing, top designers are adding bows to their 2019 wedding collections. You'll also see brides rocking cathedral veils, long trains are trending and white gowns are being outnumbered by beige and ivory and soft pastel offerings.
Greenery continues to highlight reception sites with ceiling hangers. Watch for smaller bouquets, hoops with mixed foliage and garlands of lush, table runners.Backdrops will be romantic comprised of soft, natural foliage, silk ribbons or flower petals. They provide a perfect setting for guests to be photographed in front of, as well as being the perfect accent for behind  the head table. Balloons continue to make a comeback at wedding showers and reception festivities and you'll find them in soft colours like cream and pink, adding a sense of whimsy to the reception decor.
From bridal fashion to the reception table linens, there's no shortage of texture and classic luxe materials. Velvet is making a well deserved comeback, as an all season wedding staple and decor is jaw-dropping, posh and inspiring!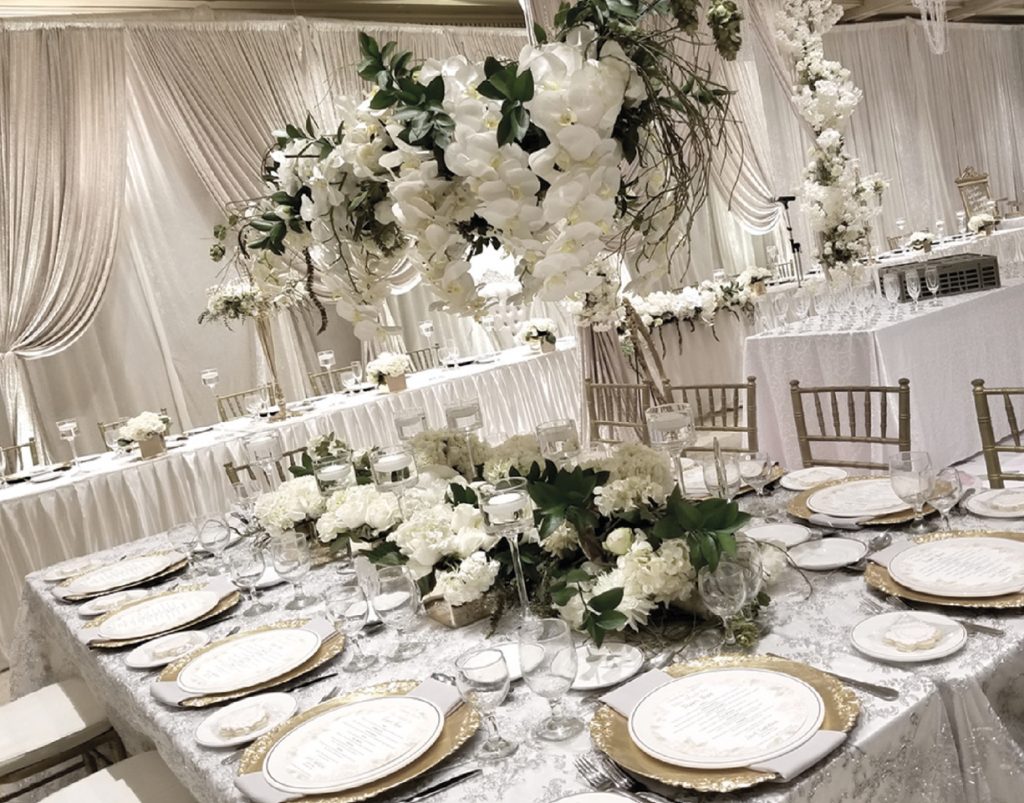 photo courtesy of Designs by Diane
This season, couples will be bringing the outdoors in with big potted trees, flower-laden branches and lots of lanterns of all shapes and sizes. "This year is all about soft, sophisticated, elegant and natural,"states Diane Spencler, Event Planner, Certified Decor Specialist  and owner of Designs by Diane, (DesignsbyDiane.org) a company that she founded almost 30 years ago. Diane has a keen eye and a knack for understanding exactly what a couple wants and she goes beyond their expectations, with trend-setting over-the-top, breathtaking venues. She has a talent and flair for making every occasion she designs, ah-inspiring and sensational.
Judene McCalla, owner and award-winning graphic designer at See You There Invitations, (SeeYourThere.ca) is excited about 2019 styles and paper trends. "From intimate receptions to grand celebrations, this year's paper collections are creative and there's a style to suit everyone," says McCalla. "Laser cut invitations will continue to dominate this year and expect to see vellum, embraced as an emerging and popular look." She adds, "Vellum is made specifically from calf-skin, although the term can sometimes be used to refer to higher quality parchment, made from a variety of animal skins. Well made vellum, feels like velvet, and it is silent when you turn the page.
"Watch for white ink this season and wax seals are back with a new found popularity. Glitter continues to be extremely popular while acrylic invitations and seating charts are gaining in popularity. Bold and colourful envelope liners are a must especially with vellum paper," she goes on to say, "Expect to see lots of mixed metallic prints emerge in gold and silver foil.  Invitations are both visual as well as tactile as they set the stage for the style and theme of your special occasion," states Judene.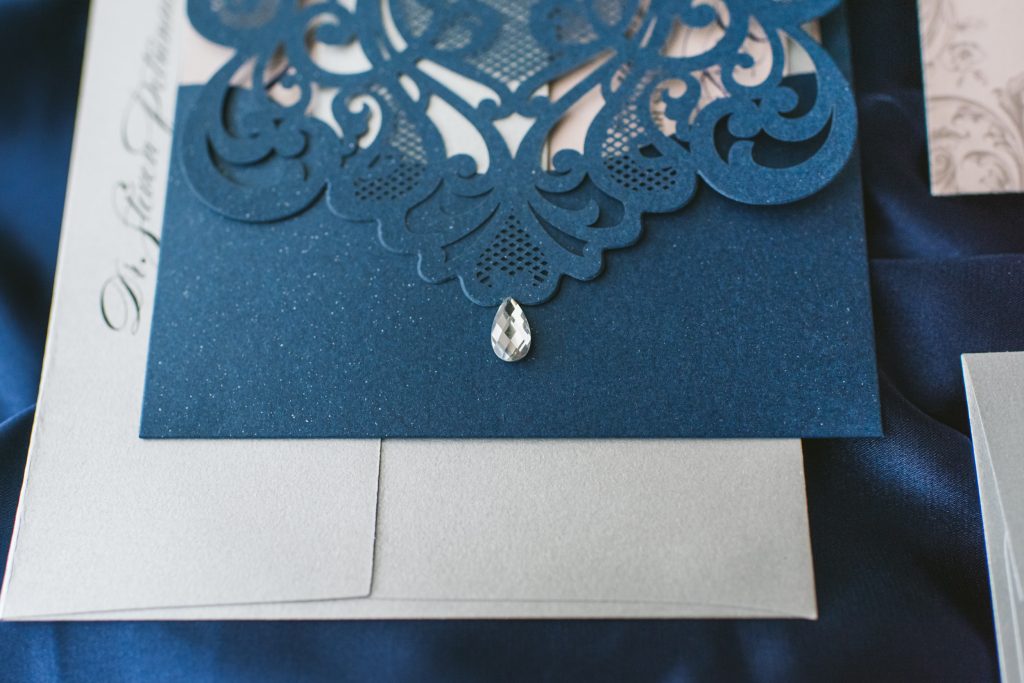 photo courtesy of Manifesto Photography. Invitation created by See You There Invitations, Windsor
Find classic ballroom weddings back in demand this season as they once again have their 'moment' in time.The feel will be elegant, dinner party appeal; think silver candlesticks, sparkling chandeliers, receiving lines and glamorous surroundings all dotted with oversized potted trees, greens and florals.
Reception food will be comprised of local flavours with small plates, small bites and many courses and they may be served with a signature cocktail aptly named and custom-blended, especially for the couple.
The hit of this season's menu items may well be the grazing table, laden with an abundance of amazing and appetizing food. It's all about the presentation from fanciful hors d'oeuvres to charcuterie boards laden with meats, cheese and fruit that looks amazing. This trend got its start in New Zealand and is now widely accepted as a new and unique offering for your guest's enjoyment. Tables will be filled with fresh fruits, vegetables, an array of artisan breads, dips, sweets and sushi and other enticing menu items to tempt their guests' appetites.
Guests will be tempted to sample sweet, finger foods such as lemon tarts, macarons, cake pops, chocolate treats, cookies, cupcakes, donuts and icy gourmet popsicles, made from natural non-preservative chemical-free ingredients. Bubble tea stations are all the rage as well and vegan, nut-free, Keto, Paleo and gluten free options are centre stage in menu planning. Couples want their guests to eat, enjoy and be happy! They care about taste and reception food is a major deal. They want to wow their guests!
Watch for tavern seating, as an option at reception venues. It's more intimate and conducive to conversation and guest interaction. Every couple works hard at refining their guest list and this is a great way to ensure everyone mingles and meets one another;  it's all about experiential fun!
From exceptional fashion to delicious and hip food, today's couples are throwing heartfelt celebrations filled with lots of love and laughter. While the world of weddings has evolved in recent years with many new ideas, they are still very much the same. It is the sharing of a love story and the beginning of a new life together. The bridal party stands with the couple at the ceremony. The bride carries her flowers and the rings are exchanged. This is the defining moment of a wedding. The party is the icing on the proverbial wedding cake!
No matter what style celebration a couple may plan;  today anything goes. It's the details that make the difference and we have an enviable selection of great professionals in Windsor/Essex County that will deliver exactly what you dream of!  Here's to celebrating a simply beautiful day with family and friends!
Sheryl Davies Is the Publisher/Owner of The Wedding Guide Windsor|Essex County, now in its 27th year (TheWeddingGuide.ca) She is President of DMS Communications, a creative marketing company and also serves as a Social Media Commentator for selected area businesses. Davies was a Biz X Nominee in both 2015 and 2016 in two categories; for Leader in Social Media Leader Who's a Tough Act to Follow and Leader of the Franchise World. As a proud supporter and advocate for the Arts, Sheryl is a founding member of The Canada South Festival Network,The Canada South Blues Society and a Past President of the Arts Council Windsor Region.  She spent 18 years as one of the original organizers and publicist of Bluesfest International. Davies also sits on a board of renowned wedding experts based in the U.S., as the only Canadian member.
. -end-
Judene McCalla Picture. Blues Laser Cut Invitations
Today's couples are seeking out stunning, custom designed laser-cut  invitations to set the stage for their wedding day. We loved this cobalt blue design by Judene McCalla, owner and graphic designer at See You There Invitations, (SeeYouThere.ca) In 2019, expect to see cutting-edge papers and unique designs with  lots of glitter and wax seals as accents.
Photo courtesy of: Manifesto Photography, Windsor, Ontario
Chalet Photography Picture: Bride outdoors in white gown
2019 brides are seeking the unique, with a wedding day that is as special as she is! Watch for elegant, textured gowns with shoulder touches, ruffles and elegant detailing. Cathedral veils and long trains are emerging trends for this season. This is the dress she will be photographed in more times than on any other day in her life. It has to be as special as the bride herself.
Photo courtesy of: Chalet Studio Photography  & Gardens (ChaletStudio.ca
Designs by Diane : Picture white reception hall with florals
Stunning decor make your wedding day a veritable treat when you and your guests enter the room. Expect to see sophisticated receptions replete with sparkling chandeliers, glittering table linend, silver candelabras, large, gorgeous potted trees and lots and lots of greenery. Brides in 2019 are setting their reception locations with timeless elegance, luxury and trend setting design that is both dazzling and picture perfect!
Photo courtesy of: Designs by Diane (DesignsbyDiane.org)