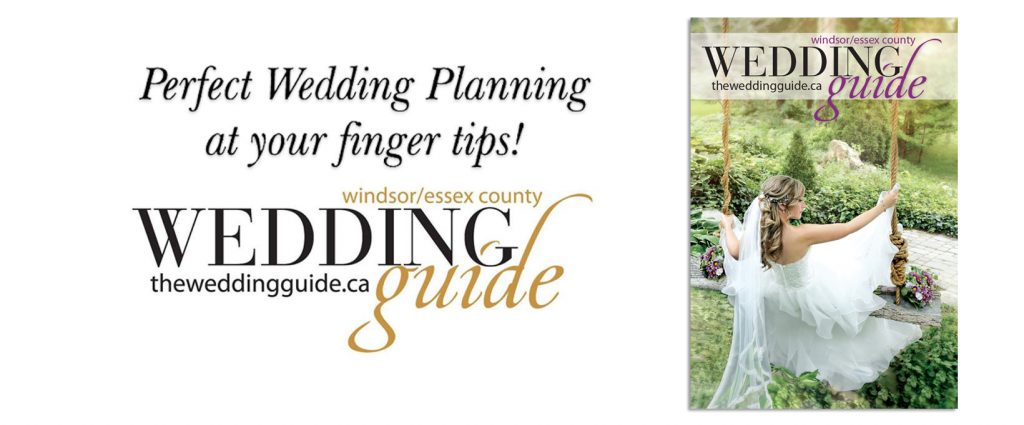 Fall 2019
From beauty to photography, event planning to videography, it's the most intimate details that provide the canvas for perfect wedding planning. The trends for 2020 are shaping up to be innovative and inspiring with emphasis on fashion, menus, decor and flowers.
From lavish locations with plenty of room for a large guest list, to the micro gatherings for your closest friends and family, it's your day to tie the knot. Your highly anticipated celebration will certainly be an experiential event like no other and Windsor/Essex County is the perfect place to host it!
This upcoming season you'll find a world of inspiration and unparalleled choices complete with fabulous wedding professionals, all ready to assist you with the day of your dreams.
Every couple wants a memorable day and 2020 will be the year of dazzle, elegance and romance. Wedding style isn't about what you're wearing; it extends to every aspect of your wedding day, starting with your engagement and ending with the favours your guests take- away with them.
It's all about statement-making and 2020 dress trends have brides talking. Expect to see a return to tradition with updated takes on classical bridal staples; including pearls, pretty floral prints and sparkles.  Dresses will be fairy tale 'princess' styles with cathedral length veils and high necklines. Expect to see ruffled collars, long sleeves, embroidery and lots of tulle. 
Fuschia accents will reign in bridal fashion in contrast to the pale and soft blush of past years and it with be that 'colour' pop in sashes, a ribbon, belt or wedding cape.
Wedding food will be more vegan and gluten-free related. Even couples who aren't vegetarian are more sensitive to their guests, who have dietary requests. Expect to see grazing and dessert tables with savory cheese towers, cheese boards and artisan bread and crackers. It's all about the presentation from fanciful hors d'oeuvres to charcuterie boards laden with menu items to tempt their guests. The three course meal of the past has lost its popularity in 2020. Expect to see brunch, buffet and food stations. Signature drinks are still popular and may match the colour scheme.
Couples will be having fun showcasing the sweets of their childhoods, with a novel twist on popsicles prepared with no additives but champagne, a wine sorbet or chocolate truffles filled with spirits like whisky, brandy or Kaluha.
Decor in 2020 is big and moody with dark colours and intimate spaces. They'll be groom's rooms to converse in and spaces for the littlest of guests to play in. Expect to see balloon walls and art murals that make great backdrops for guest photo ops. There will be twinkling lights, chandeliers and monogrammed dance floors.
Videography is finally part of the big picture in 2020. If a photo holds a thousand words, a video holds a thousand photos!  Don't be the couple who regret not having a video when the wedding is over. Budget for it and relive your day for years to come. There's nothing like seeing your day in real time. There will be so many moments that you miss out on.
Essex County brides can plan an unforgettable event in historic mansions, winery locations, hotels, golf and country club settings, and on any of the beaches in this area. We have a picturesque setting on the water, plus a wedding season that extends into mid to end of October, due to our fantastic weather.
Today, anything goes when you're planning a wedding. It's the details and your distinct personality as a couple  that make the difference. Cherish your memories and exceed your expectations. This is a magnificent area filled with highly regarded services and talented wedding professionals.
And, remember to pick up your free, 128 page upscale copy of The Wedding Guide Windsor|Essex County. Find it at selected bridal shops in this region. It boasts the answers to the questions that are asked whenever a wedding is hosted. Find checklists, timetables, inspiration, emerging trends and fabulous wedding vendors. 
Sheryl Davies Is the Publisher/Owner of The Wedding Guide Windsor|Essex County, now in its 28th year (TheWeddingGuide.ca) She is President of DMS Communications, a creative marketing company and also serves as a Social Media Commentator for selected area businesses. Davies was a Biz X Nominee in both 2015 and 2016 in two categories; for Leader in Social Media Leader Who's a Tough Act to Follow and Leader of the Franchise World. As a proud supporter and advocate for the Arts, Sheryl is a founding member of The Canada South Festival Network,The Canada South Blues Society and a Past President of the Arts Council Windsor Region.  She spent 18 years as one of the original organizers and publicist of Bluesfest International. Davies also sits on a board of renowned wedding experts based in the U.S., as the only Canadian member.